Government in 2071 Guidebook: Preparing for new frontiers
An exploratory publication by the World Government Summit that captures expected future megatrends which could change societies and governments' role towards their citizens
Government in 2071 is an initiative launched by the World Government Summit with the vision of preparing governments for the future. With 2071 being targeted as the year for the findings, societal and technological megatrends were captured. The predicted megatrends highlight the potential changes in citizens' live, and how societies will operate and be governed. These findings were compiled to form a guidebook intended to direct governments towards a future better prepared for. Government in 2071 has not only redirected the strategies of governments, but also those of private entities and startups.
Find more details here: https://gov2071.worldgovernmentsummit.org/en/guidebook
The purpose of the Guidebook is to inform and inspire policy makers, government strategists, business leaders, and civil society worldwide to start planning for the dramatic shifts governments will be facing through the next 50 years. Predicting the exact future is not our goal. However, given the high-level of certainty around wide-scale and long-term societal trends, and the exponential growth of technological developments, a pragmatic approach has been taken to evaluate plausible scenarios that governments should begin planning for.
The overall approach entails analyzing best-case scenarios of megatrend developments across Scientific, Technological, Environmental, Economic, Political and Social factors for long range, global change.
Macro-megatrends, led by automation, robotics and climate change, are impacting humanity. These megatrends are posing to exponentially challenge our very existence, while also providing incredible possibilities for development.
Three distinct eras of innovation development are defined in the Guidebook, the "Digital Connectivity Era" (2018-2030); the "New Exploration Era" (2030-2050); and the "TechnoHumanitarian Era" (2050-2071). For each era an impact assessment on future government functions and stakeholder interactions for governments are discussed at a high-level, focusing on the best plausible innovation outcomes trajectory. Finally, recommendations for governments to begin planning for the future are presented. In subsequent editions of the Guidebook, it is intended to provide customizable tools — allowing individual governments to evaluate the details of various specific scenarios, based on their unique conditions, and model the resultant impact on their nation and citizenry.
Watch the video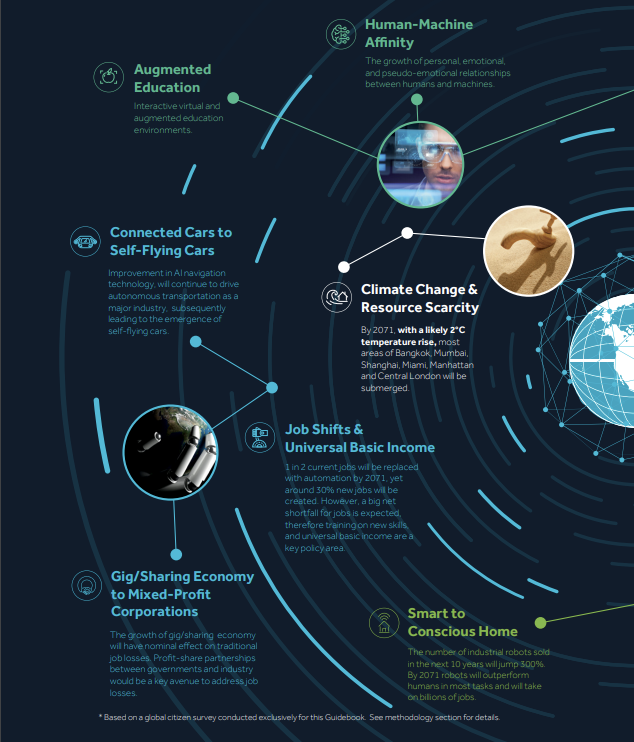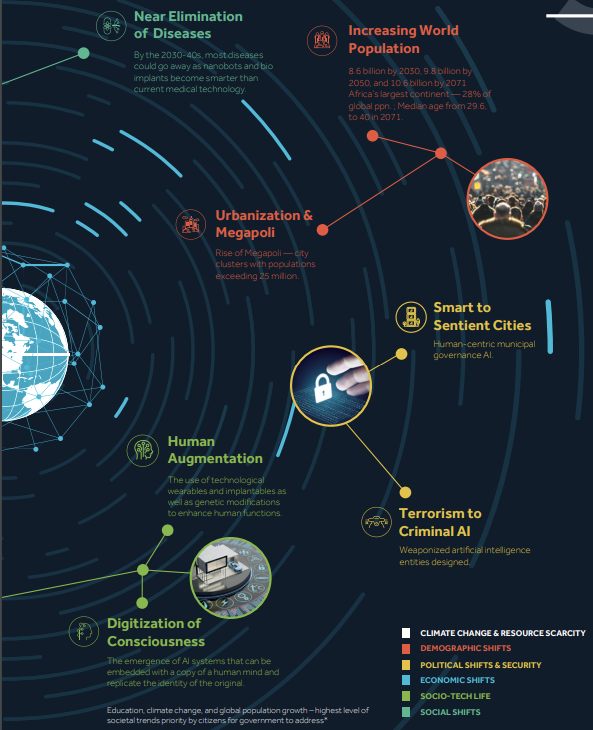 Infographic: Societal Megatrends through 2071